National

STONEWALL

Veterans

Association


=S.V.A. Supporters=

Mayor Rudolph W. "Rudy" Giuliani
(107th Mayor of New York City)
Elected NYC Mayor in 1993 and re-elected 1997
S.V.A. Honorary Member since 1985




---


2008 -- Rudy's Presidential Primary Election

On "Super Tuesday" February 5, 2008, after the disappointing (third place) primary vote tallies in Florida -- the home of hundreds of thousands of prior New Yorkers -- Rudy Giuliani announced the following day that he was withdrawing from the presidential race and endorsing Senator John McCain. Rudy had been undisputedly in first place in all of the national polls. His New York-based, credible, high-profile and popular candidacy spoke volumes as to the significance of the great City of New York. How many city mayors are ever in a position to run for the president of the United States of America? Previously, Mayor John Lindsay was a Republican-turned-Democrat presidential candidate in 1972. Congratulations to Rudy Giuliani -- you served us proud once again -- America's Mayor!



---


2007 -- Rudy's Presidential Nominee Candidacy

In New York City onthe 5th of February 2007, Brooklyn-born "America's Mayor" Rudolph W. "Rudy" Giuliani ("RWG") announced that he took the next step -- Federal filing of official intent -- to his 2008 candidacy to be the President of the U.S.A.! On Thursday, February 15th, RWG confirmed that he is, in fact, a presidential candidate! By the end of that month, even

Time

magazine called the S.V.A. about Rudy! Particularly during the month of March while campaigning throughout America, Mayor Rudy restated again (and again) his democratic (with a small "d") support for the rights of all American citizens, i.e., Gay people, and for Gay couple civil unions.


---
2002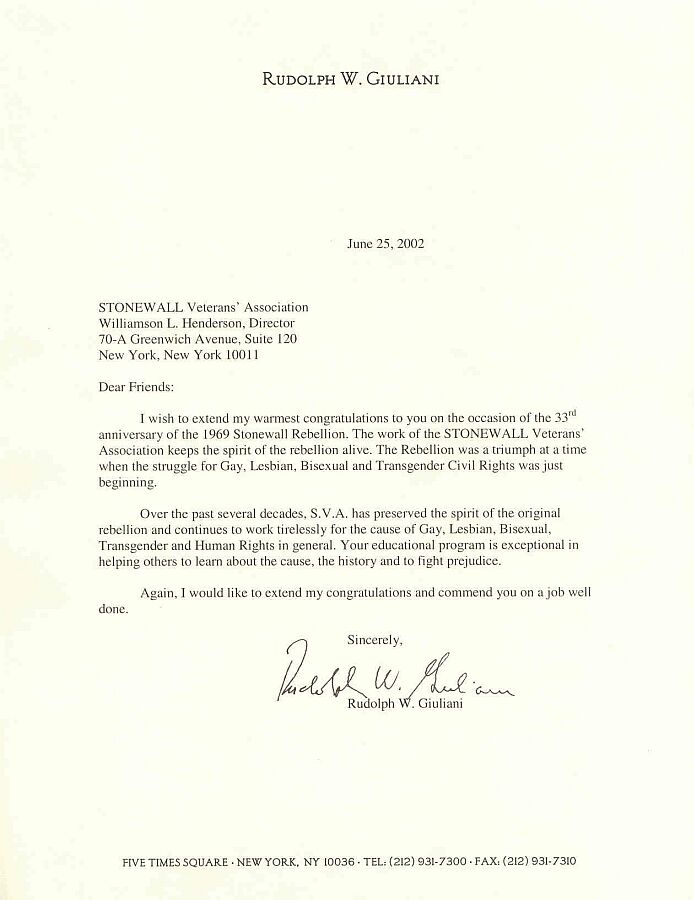 ---


2001

New Yorker-of-the-Year:
N.Y.C. Mayor Rudy W. Giuliani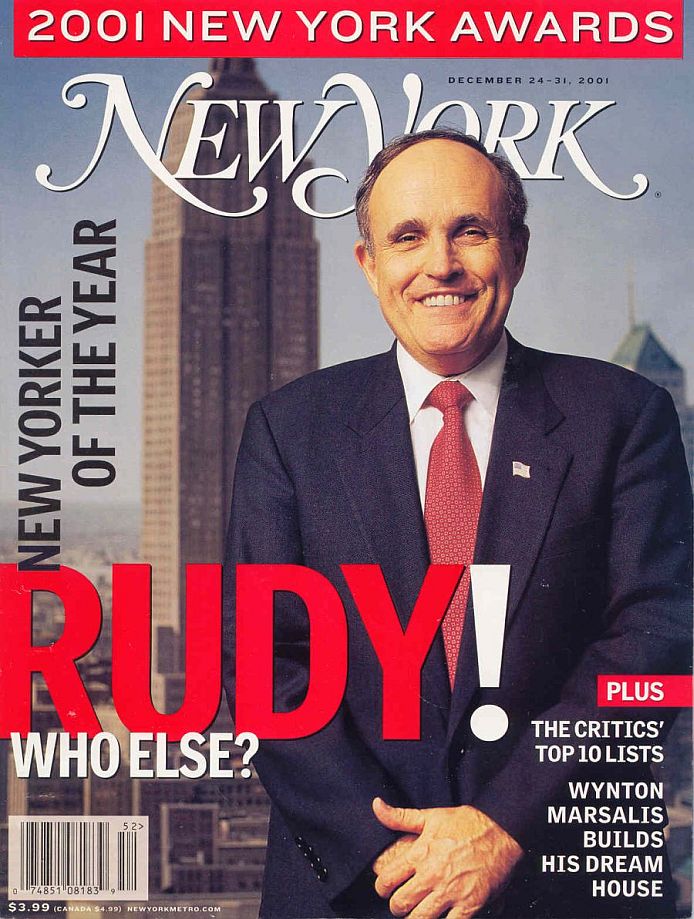 New York Magazine's New Yorker-of-the-Year: Rudy Giuliani




---



New York City 2001 Gay Pride Parade



It was less than three months before the unknowing and horrific September 11th, 2001, terrorist attacks (that's two) on New York City, that N.Y.C.

Mayor Rudy Giuliani

hosted his "8th Annual Gay Pride Celebration" at Gracie Mansion in Manhattan, New York. It was held on Thursday, June 21, 2001, and for the first time, at the perennial urging of S.V.A. President Williamson Henderson, and a few others, it was held not as an early morning breakfast but as an evening cocktail party. On Sunday, June 24, 2001, Mayor Rudy Giuliani -- and his new and unusual political buddy,

Michael Reubens Bloomberg

, successor Republican candidate for New York City Mayor -- joined the

STONEWALL Veterans' Association

("S.V.A.") and the 1969 blue Cadillac "Stonewall Car" in leading the annual New York City Gay Pride Parade down Fifth Avenue in Manhattan. Of course, Mayor Rudy's office called to get the green light that the S.V.A. would have this highly successful media magnate, Mr. Bloomberg, who we did not know personally but only knew of, also as our special guest. Mayor Rudy's communications director made it clear that the Mayor was asking this favor and that he hoped that the S.V.A. -- of which he was and is an Honorary Member -- trusted his judgment in this as we have in many other matters. Guess what? In fact, Mayor Rudy personally introduced mayoral candidate Michael to the S.V.A. President Williamson and other S.V.A. officers such as

Jeremiah Newton

,

Leigh McManus

,

Cristina Hayworth

,

Terri Van Dyke

,

Electra O'Mara

and

Dave West

. Williamson and Michael Bloomberg hit it off immediately regarding "Stonewall" right in the middle of the Fifth Avenue! Right was Rudy!! After all was said and done -- and plenty was done and said -- after being endorsed by and promoted by Rudy, media magnate Michael became the next N.Y.C. Mayor!





---
2001 - Person-of-the-Year:
Rudy W. Giuliani, America's Mayor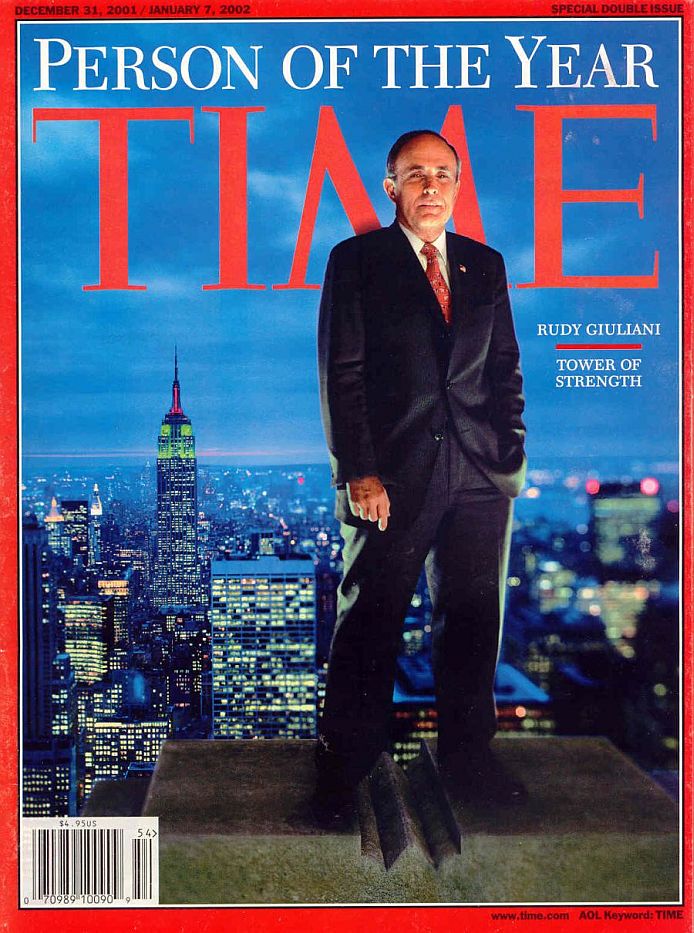 Time Magazine's Person-of-the-Year: Mayor Rudy Giuliani




---


2000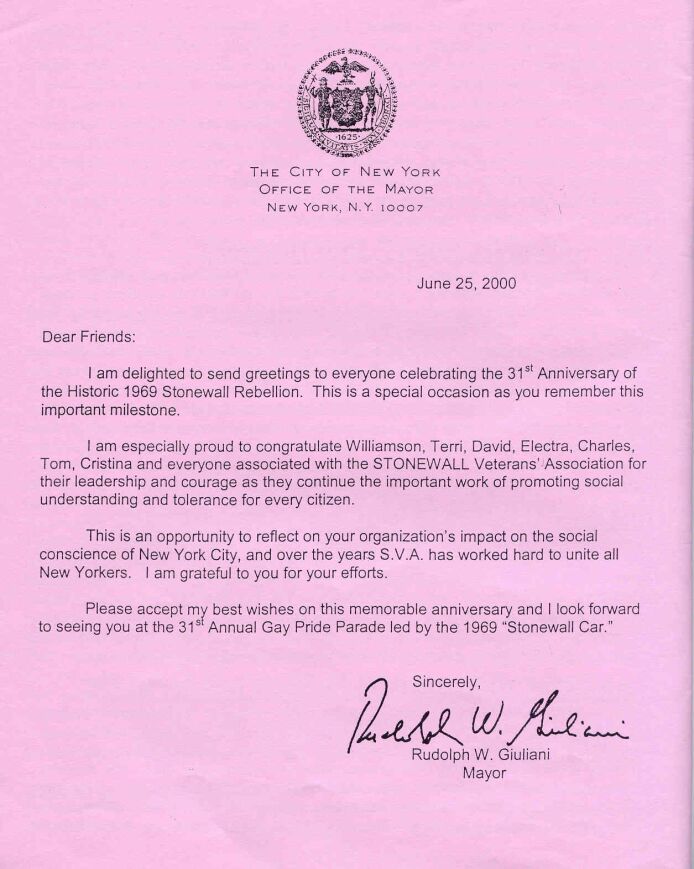 Note: Reproduced in lavender from the Stonewall NEWZLETTA
"New Millennium Gay Pride Edition" (2000) as this
letter was selected as one of "S.V.A.'s Top 5 Best Letters".




---



S.V.A. Post-Parade 2000 Press Release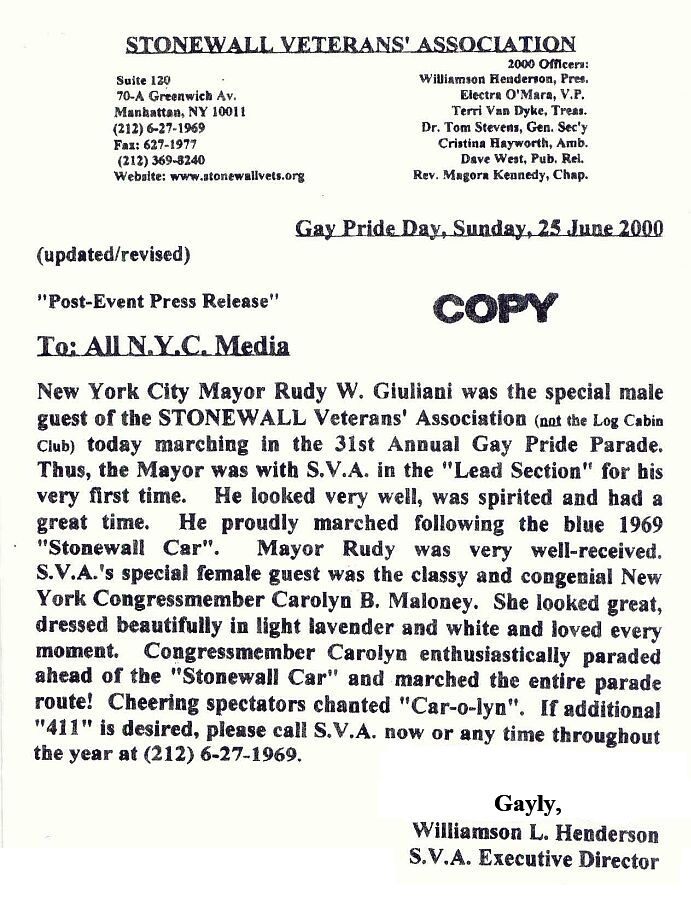 Press Release regarding Gay Pride Parade by S.V.A. Director Williamson





---
N.Y.C. Mayor Rudy W. Giuliani hosts
2000 Gay Pride Celebration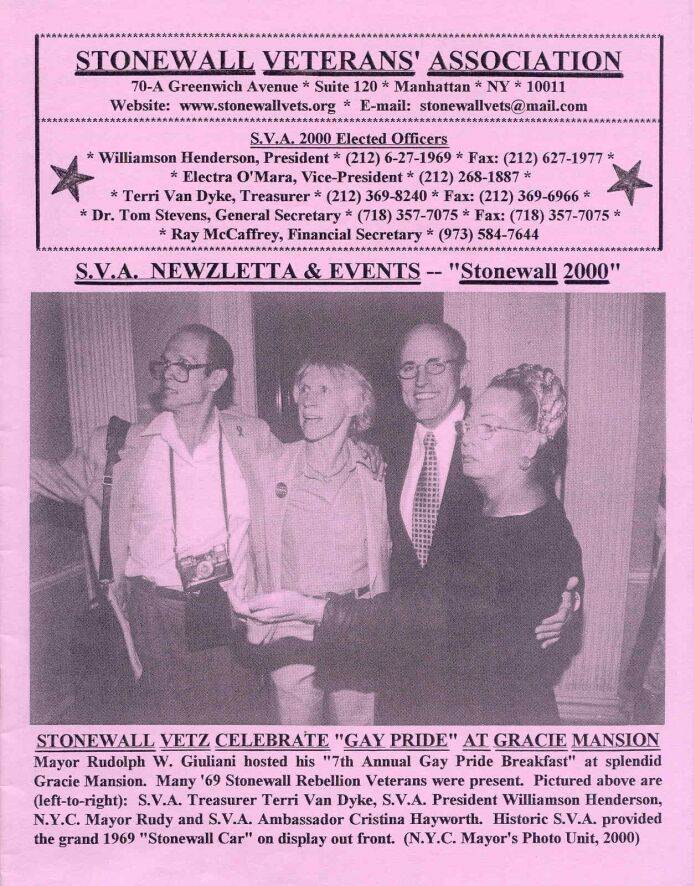 Pictured above on the front cover of the Summer of 2000 issue of the

STONEWALL

Newzletta

are (l-2-r): STONEWALL Veterans' Association officers Terri Van Dyke (Treasurer), Williamson Henderson (President) and Cristina Hayworth (Ambassadress) with host Mayor Rudy Giuliani at fabled Gracie Mansion for the annual N.Y.C. GayPride Celebration.




---
2000 Mayoral Breakfast Invitation to
Gay Pride Month Celebration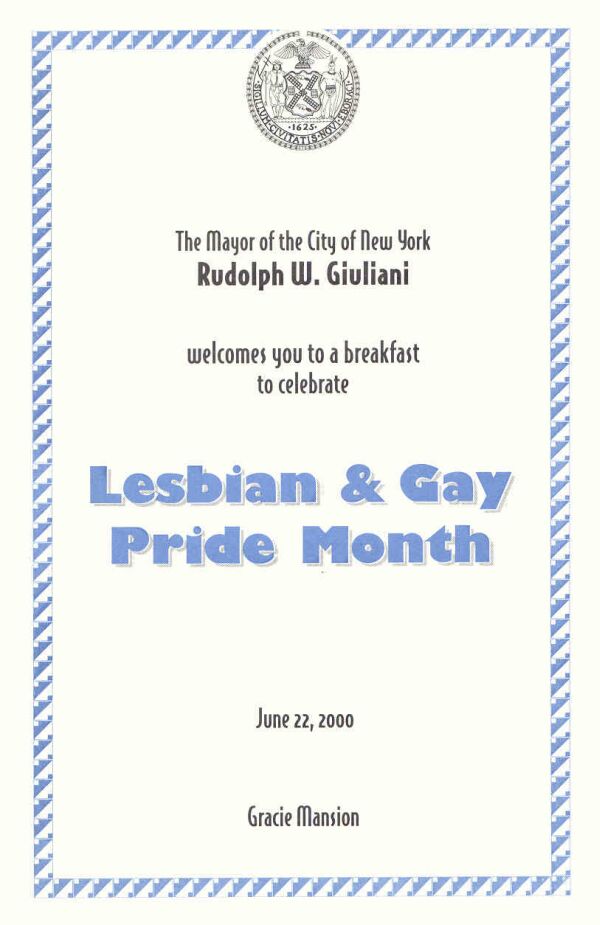 ---
1999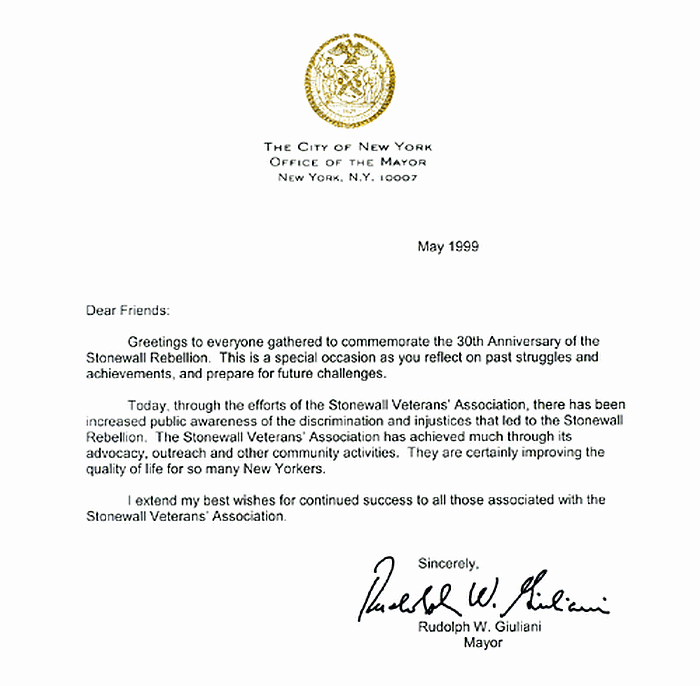 ---


Mayor Rudy Giuliani hosts 1999 Gay Pride Celebration at Gracie Mansion

For those Americans nationwide and non-American citizens worldwide who may not know, this is a tradition for New York City Mayors started by the internationally-known NYC Mayor Ed Koch. Many NYC public officials such as the borough president, the comptroller and the public advocatesponsor their own diverse Gay Pride celebrations. Our organization, the national STONEWALL Veterans' Association received Gay Pride letters of congratulations and praise from U.S. Senator Daniel Moynihan (D), Senator Alphonse D'Amato (R) and N.Y.S. Governor George E. Pataki (R) among dozens of other prominent public officals.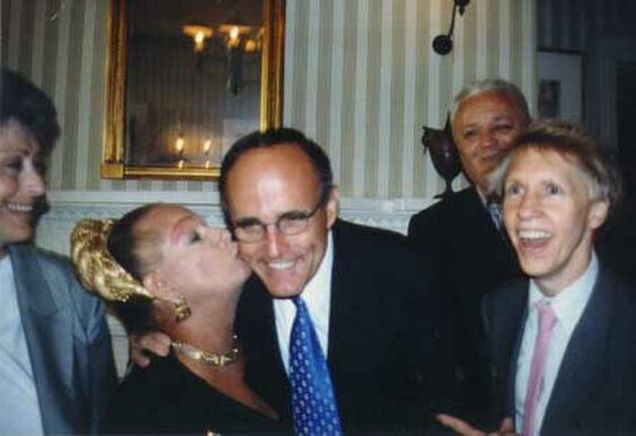 Mayor Rudy Giuliani with some S.V.A. Officers at Gracie Mansion
[Photo by Raymond McCaffrey]
Note: This picture was so popular that the basically conservative New York Post
proudly printed it on the inside cover of a Sunday edition!
Thursday, June 24, 1999 -- Happily pictured above are the

STONEWALL Veterans' Associatio

n ("S.V.A.") Ambassadress

Cristina Hayworth

, up from Puerto Rico, with a Cuban cigar gift for the Mayor (which the honorable mayor had to "by City law" refuse) and bussing a very amused and fun-filled New York City Mayor

Rudy W. Giuliani

. The S.V.A. President

Williamson Henderson

is laughing big time and, in the rear, S.V.A. Vice-President

Jeremiah

Newton

is beaming. Literally to the far left is former Corresponding Secretary

Harriet

"Mo"

Garblestein

.

The Mayor was with the S.V.A just three days later leading the annual New York City Gay Pride Parade down famous Fifth Avenue for most of the parade route. When Mayor Rudy used to (past tense) march with the Log Cabin Republican boys, the Mayor unfairly (due to association) got many boos and hisses from the parade spectators. In sharp contrast, whenever Rudy marched with the S.V.A. Stonewall veterans and the famous, blue, classic Cadillac convertible "Stonewall Car", he received overwhelming cheers and kisses from the crowds!! And, so Mayor Rudy gladly observed and verbally commented on the very welcomed change! The Stonewall Veterans with the Mayor were filmed by all of the television stations and photographed by all of the print press.

---
1999 - N.Y.C. Mayor Rudy Giuliani's Invitation for his Gay Pride Celebration at Gracie Mansion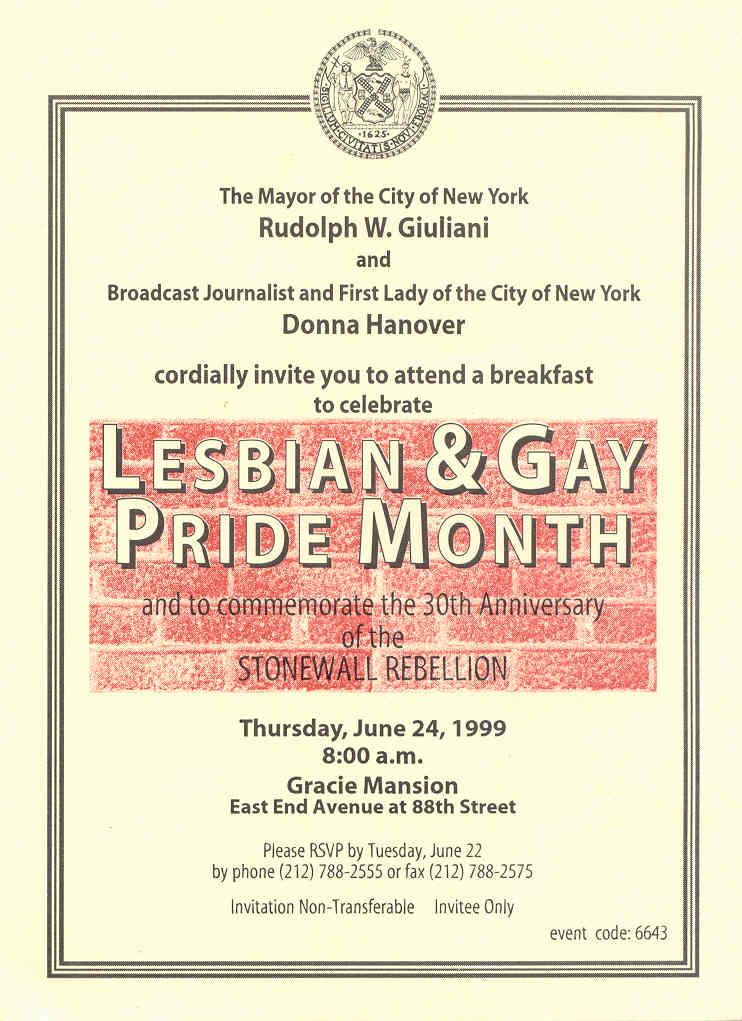 ---
1998
Mayor Rudy Giuliani's Congratulatory Letter to the S.V.A.'s Sister Group, the Imperial QUEENS & Kings of Greater New York
---
1998 - Mayor Rudy Giuliani signs the New York City Domestic Partnership Law benefiting Gay and Other Couples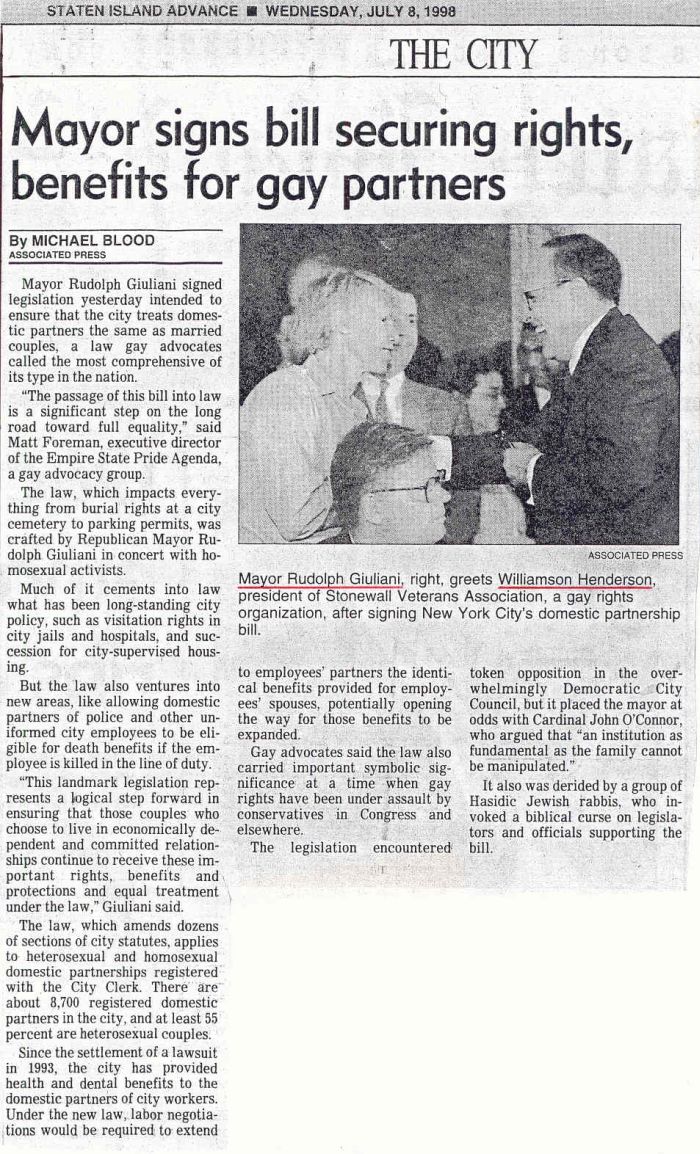 The SVA's Williamson Henderson gives friend N.Y.C. Mayor Rudy Giuliani a big, hearty laugh. Standing proudly behind Williamson is openly-straight, Republican N.Y.C. Councilman Andrew Eristoff. Sitting detached from the happiness around him and looking glum is openly-Gay, Democrat N.Y.C. Councilmember Tom Duane (aka "Duanda"). All of the local television stations covered the historic event.
[Photograph by the Associated Press via the Staten Island Advance]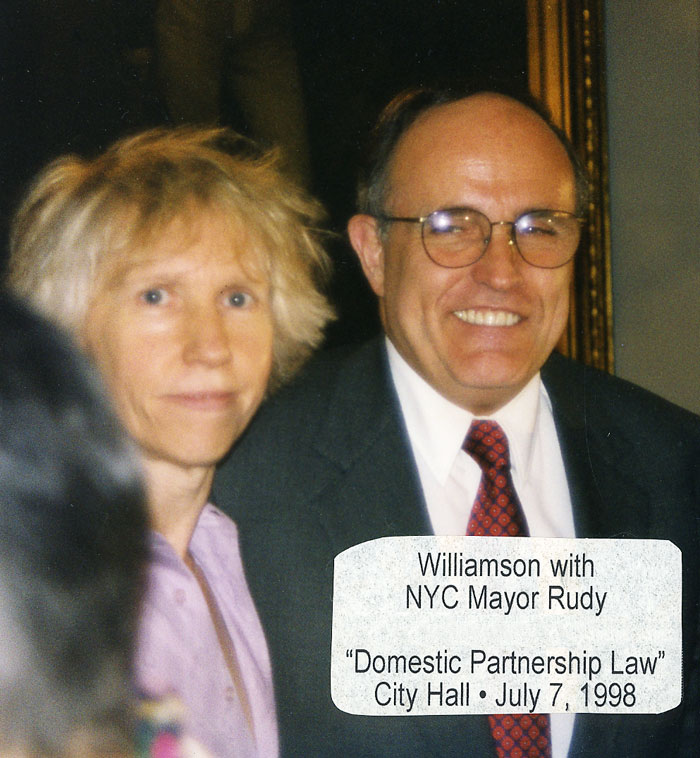 Williamson Henderson with NYC Mayor Rudy Giuliani at New York
City Hall for the historic Signing of the Domestic Partnership Law
[Photo by Andrew Kirtzman of NY-1 TV News]

---
1997
---
1996

Mayor Rudy Giuliani's Annual Ace Letter to S.V.A.


---
1995
Mayor Rudy's Letter to SVA Sister Group the Imperial Queens


*


---
1994
Letter to S.V.A. from Mayor Rudy Giuliani


*


---
1993


*



---


11th September
2018
17th Anniversary of the four (4) cowardly, radical, Islamic, terrorist, sneak attacks against America in Washington, DC, Shanksville, PA, and New York City, NY (twice at the World Trade Center towers) when Rudy Giuliani was the outstanding NYC mayor!
*
11th September
2016
15th Anniversary of the September 11th, 2001 Attacks on America!.
Mayor Rudy W. Giuliani's September 11th tribute in N.Y.C., regarding the four terrorist attacks in 2001, was held at the site of the new World Trade Center including the 1,776-foot high Freedom Tower in New York City, America!
*
4 February
2013
Former NYC Mayor Rudy was special guest at
former NYC Mayor Ed Koch's Services
at Temple Emanu-El in Manhattan, NY.
*